My USC graduate education culminated with a thesis to fulfill my requirements of earning my masters in communication management from the Annenberg School for Communications.
With an interest in the power found in women "leaning in", and the capricious corporate and cultural environment bending in favor of women, I opted to write a research paper about my generation — millennials — and the rising pursuit of entrepreneurship among these women.
The Study: Brief Background
My study explored the rise in female entrepreneurship among the millennial generation. Millennials are identified as the generation following Generation X, or individuals born between the early to mid 1980s to the early 2000s. Within this period, the tech boom was rapidly growing, a presidential sex scandal left a nation in shock, the September 11th terrorist attacks transformed national security, and the job market was steady. Women cultural icons, sports champions and political heroes launched an incredible journey of empowerment for awe-inspiring girls growing up in the '80s and '90s. With more women leaders penetrating the business world, and as a result being thrust into the media limelight, millennial women are observing this sensation and taking note. Due to this phenomenon, I investigated the question: Do cultural and media representations of powerful, female leaders impact the interest or increase in female millennial entrepreneurship?
After interviewing seven female millennial entrepreneurs (including Pocket), and moderating two focus groups of female college students, the results led to an analysis of the inherent leadership abilities and drivers of entrepreneurship of some women with little regard to culture. Future research is suggested to further investigate the reasons why millennial women are comfortable with foregoing the standard, corporate career trek for the more risky, yet ultimately rewarding entrepreneurial route.
Below are three main secrets about the unique stance on female millennial entrepreneurs:
1. Female Millennial Entrepreneurs Already Have The "It" Quality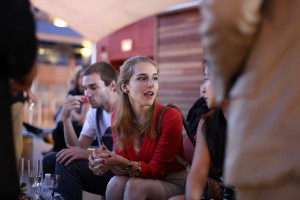 Despite the changing corporate culture for women in the workplace, women pursuing entrepreneurship still face challenges. However, millennial women have a special quality about them that is unstoppable when pursuing their dreams. Millennial women are driven, determined, resourceful, and equipped with the tools to come out on top — these characteristics make up the "IT" factor. Those tools have been provided to them by their nurturing parents who assured them that they can be whatever they want to be when they grow up, and also the influence of the culture in which they grew up in — from the '90s pop music group, the Spice Girls, who embraced sexual power to the rise in female political figures and leaders. Millennial women have IT in them — a driving spark — to be phenomenal leaders and entrepreneurs shaping our society and the futures of women to come.
2. Take Advantage of Your Gender and Age
Age is also a factor that presents challenges for millennial women pursuing entrepreneurship. From earning a business loan to garnering the attention of VCs and investors, being a woman in this male-dominated field isn't the sole issue. Age is often associated with less experience or irresponsibility, however despite the stigmas associated with young age, millennials have a lot of experience in what older generations may lack such as social media skills or a deep knowledge of the digital and tech space. You will be able to impress people even more with the experience beyond their expectations for your age.
Use your age, as a millennial, to your advantage when pursuing your entrepreneurial endeavors!
This article was originally written by Pocket Sun and appeared on Medium on July 14, 2015. You can read the rest of the article on Medium.