Grace, Frankie, and The Body Images of Women
I remain a short, bulky woman with no waist and frizzy hair, while Jane Fonda is still a sex pot.
I've started watching Grace & Frankie (2015- ) on Netflix. If you not seen the series — which you should if you want to understand sexual preferences, aging, and how Lily Tomlin's and Sam Waterston's careers can continue well beyond their youths — you might try a few episodes.
That said, I am watching Grace & Frankie with pangs of envy, empathy, understanding, and a huge case of I'd better do something about this. I feel as though I'm back in high school, and the cheerleaders are winning the competition for the quarterbacks. Somehow, I want to enter the contest, but I have no idea how to do that.
You see, Jane Fonda is only three years older than I. We have both exercised wildly all our lives and eaten well, and we've both survived our hip replacements. But I don't look like her.
Surprisingly, and most unfairly, after a lifetime of trying to imitate the Jane's health habits, I remain a short, bulky woman with no waist and frizzy hair, while she is still a sex pot.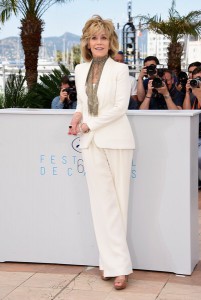 All Fonda has to do is tie a scarf around her neck, and she looks 35. There aren't enough scarves in the world to give me her look. (Lest you forget, filmmaker Nora Ephron wrote eloquently about the aging woman's neck.)
Let's put this in perspective. As one of Grace & Frankie's episodes points out, people our age are routinely dying. A healthy person, I have everything to be grateful for — a large network of intelligent and loving friends, a large extended family, and five unconditionally loving dogs. I also have men with whom I dine and have conversations, and a man with whom I live.
But deeply ingrained in my 1950's sensibility is the dictum that women's attractiveness to men is the end-all and be-all of life. For instance, my mother told me to put lipstick on before I took the garbage out because "you'll never know who you'll meet." As well, my father instructed me not to wear a girdle because men liked women whose butts jiggled. Even then it was all about the bass/base.
This attitude is so deeply rooted in my identity that I can't give it up. Neither could my mother. She continued to dye her gray hair blonde (me, too) into her 80s, and only Alzheimer's could allow her to grow white.
This is the part about Netflix's Grace & Frankie that is not funny. At least not for me.
This article was originally written by francine hardaway and appeared on Medium on May 24, 2015. You can read the rest of the article on Medium.